A SUSI Scholars Program follow-on for 2022 alumni
This summer, SUSI Scholars from the 2022 cohort, now back researching, advising and teaching at their home universities, have re-connected in the 2023 Writing for Publication course, funded by the US Department of State's Educational and Cultural Affairs and managed by the Institute for Training and Development, Amherst, Massachusetts.
This follow-on course reunited three ITD SUSI Scholar alumni: Gavkhar Sultanova (University of World Economy and Diplomacy, Tashkent, Uzbekistan), Hanan Naser (College of Business and Management, American University of Bahrain, Riffa, Kingdom of Bahrain), and Shamsun Nahar (Department of Accounting and Information Systems, Jagannath University, Dhaka, Bangladesh.)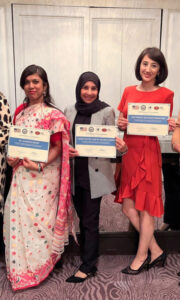 Instead of preparing three individual papers for academic journal submission, the objective of the ITD Writing for Publication course, the trio approached the summer's virtual collaboration with an eye on forwarding their ongoing project. After presenting "The Impact of Fintech Innovation on Bank's Performance: Evidence from the Kingdom of Bahrain" this past March at the ICBFB 2023: International Conference on Banking, Finance and Business, in Muscat, Oman, the three, Sultanova, Naser and Nahar, turned their collective project into a paper for submission to Islamic and Middle Eastern Finance and Management.
Describing their research that has led to a publishable piece, Nahar reports that "after the completion of our SUSI program in 2022, we felt that we became very good friends and we thought that we can strengthen our personal relationship by doing some professional collaboration as we three are from very similar fields."
All opinions expressed by the program participants are their own and do not represent nor reflect official views from the Bureau of Educational and Cultural Affairs of the U.S. Department of State, or of the Institute for Training and Development, Inc.