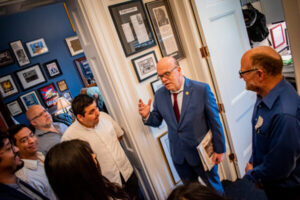 The Professional Fellows program on economic empowerment, sponsored by the U.S. State Department and administered by ITD, concluded programming June, 2023 in Washington, DC.  Fellows from Honduras and El Salvador made a scheduled visit to the office of US Representative Jim McGovern of the Massachusetts 2nd.  The visit included an extended conversation with senior advisor, Cindy Buhl, who described the Congressman's many-decades commitment to and active advocacy for human rights and rule of law in El Salvador and Honduras. 
Discussing irregular migration, Ms. Buhl and the Fellows shared viewpoints on how the lack of economic opportunities in El Salvador and Honduras, where our fellows will engage in action plans, leads many who want to stay to opt for migrating.  Unless they face great need, "nobody wants to make such a long and dangerous journey," said Buhl.  This quote was referred to the following day by a ProFellows program participant from El Salvador, Mr. José Carlos Renderos Arrué, in his action plan presentation on helping displaced workers extend their work contracts to off-season employment.  As such, there was synergy between Renderos Arrué's follow-on work to do in his home country and the agenda of the US Representative. 
Fellows from Honduras, Ms. Timna Varela Sanchez and Ms. Yessenia Recarte Molina, left the meeting discussing the Congress member's extended outreach to Central America, particularly in terms of human rights.  As a group, the Fellows marveled at a story Ms. Buhl told of how Representative McGovern acquired a poster that depicted Salvadoran martyr, Oscar Romero, which stood, framed, in plain view in the office.   
At ITD we are excited to see how the Fellows' actions plans play out to help promote economic empowerment and reduce the causes of irregular migration.  All 12 fellows made action plan presentations as a capstone to their in-country experience, with Ms. Rachel M. O'Hara Program Officer in the Global Leaders Division of the Bureau of Educational and Cultural Affairs, U.S. Department of State in attendance and providing feedback.