By John Waite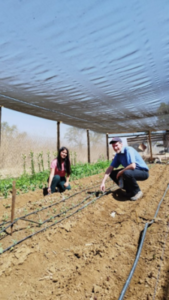 I felt the warmth of Mexico from the moment Eduardo met me at the Oaxaca airport with a sign that said "Bienvenido!" And the warm welcome continued as he introduced me to friends and colleagues who showed me the wonderful city of Oaxaca. The next day, a bumpy taxi ride took us to Eduardo's town, Zimatlan. We started at Zocalo (the City Center) to visit many of the economic empowerment projects that he has been helping. It gave me so much hope to see the young people who are taking on new projects to improve their communities. Getzemani studied at University, and could have had easier opportunities, but instead she decided to re-established a farm on her family's land. She started by growing a variety of crops, but chose to concentrate on growing flower, which she loves and that bring joy to her customers. She is participating in Hacer Comun's Entrepreneur Bootcamp to help her grow her business. She will also provide jobs for local people as her nursery and flower operation grow.
After visiting Getzemani's farm, we took a Tuktuk to the Amaranto de MesoAmerica factory, one project of a 30-year-old Centro de Desarollo Comunitario. They work with local growers to purchase and process amaranth into many nutritious food products that are sold throughout Mexico. They employ about 15 members. Another project of the Centro, which is a cooperative, is a micro finance program for women. I was happy to learn from the program manager that they learned from one of my own heroes – Mohammed Yunis, founder of the Grameen Bank. She shared stories that illustrate, once again, that empowering women economically lifts families out of poverty and energizes women to be leaders that strengthen communities.
We strolled through Zimatlan's Wednesday market, on our way to Eduardo's home/office and shared a meal with the staff of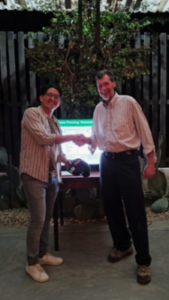 Hacer Comun. People started arriving for the second evening of a three-day entrepreneurial Boot Camp. Lilliana kicked it off with a review of what it takes to start a business – business planning, market analysis and credit. Then Eduardo had me provide an overview of the Franklin County CDC and I shared how similar many of our programs are, the need for entrepreneurship education to help ensure people get an opportunity to follow their dreams, but also some guidance so they can do it successfully. The workshop was for women, but Eduardo was able to use my visit as an opportunity to also welcome visitors from the University and city, many visiting his place for the first time. Everyone listened attentively, even to my bad Spanish, and were patient while Eduardo interpreted perfectly because he had seen it all firsthand. Afterward, questions and answers and conversations flowed as many people stayed even as it rained and became cooler in our outdoor meeting space.
This experience continues to remind me how connected we all are around the world. How people want to pursue what's meaningful to them and appreciate guidance and counsel and help. We all agreed that when people work together, communities benefit. I know I learned how similar some of our challenges are – and how important good business planning is – no matter the size or location of the business. Everyone I spoke with appreciated hearing the stories I shared about our work in western Massachusetts. I think we all agree that communities can only get better when the people in the community have control and are able to pursue their dreams. I also know Eduardo has invested so much of his time and energy into helping others. He has developed a strong team, but still wonders if it will make a difference. He now knows that my organization started small but over 43 years grew to have an undeniably strong impact in our community and beyond. I believe this has given him more confidence that his 3-year-old organization can do the same.
Our connections will continue well after I return home. I have promised to share information about KIVA and other international business resources that might help Eduardo, Hacer Comun, and all of his connections. Eduardo knows that I will remain a resource and mentor to him that he can reach out to as needed. Getting to know so many Mexican people committed to improving and staying in their country is quite different from the stories that most North Americans hear. And that is something that I am committed to sharing with my community.
All opinions expressed by the program participants are their own and do not represent nor reflect official views from the Bureau of Educational and Cultural Affairs of the U.S. Department of State, or of the Institute for Training and Development, Inc.