By Zubda Zia, Pakistan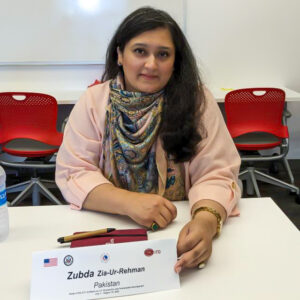 This is Zubda Zia from Kinnaird College for Women, Pakistan. I am one of the 18 delegates who was selected to attend the prestigious "Study of US Institutes (SUSI)" Scholars Program on economics and sustainable development. This scholarly program is funded by the U.S. Department of State's Bureau of Educational and Cultural Affairs and is being conducted by the Institute for Training and Development (ITD).
It's the third week of our stay in the beautiful city of Boston. Each day we've had rigorous interactive sessions covering different cultural and socio-economic aspects of American society followed by visits to the most happening places that capture the real vibe of the city. America, to me was always a "Melting Pot", till, only during one of our sessions, I was introduced to a more relevant term that describes America best. America is a big bowl of "Mixed Salad" where each vegetable and fruit, retaining its exclusive taste and texture, contributes to making it delectable. During my stay here in Boston, I have tasted this mixed salad and enjoyed every bit of it!!!!
I have met Latinos, Hispanics, Africans, Pakistanis, Chinese and Indians, who seem to have gelled so well yet have retained their individual identities. I think this is exactly what makes America the "Dream Destination" where anything and everything is possible. Who could ever have imagined that an Indian boy would get off his seat in a subway and offer it to a Pakistani woman. This is exactly what I experienced on one of my trips yesterday. I wish the politicians could learn something from this unpretentious gesture and let us live in peace and harmony.!!!!!
Interestingly, my scholar friend from India and I sit together during our sessions and enjoy an amazing camaraderie unlike what has always been projected in the media!!!!
SUSI Scholars program has allowed us to debate, argue and dismiss baseless misperceptions & lack of knowledge about each other.
Let me share one of the most heart-warming anecdotes with you, which might help you understand how grateful I am to have been provided this platform where nationals of all different continents have come together to think beyond their caste, creed, color, religion, and nationalities. Although Boston has been treating me well, I got this bad allergy which left me with itchy skin and blotchy spots all over my body. Our program director Katie, who has been going the extra mile to ensure everyone's at ease, guided me through the health care process. All of the fellow scholars observed my discomfort because of the allergy and that very evening, I had anti-allergy pills and ointments from Slovakia, Costa Rica, Hungary, and China, placed right outside my room. I was touched!!!!There were these amazing HUMANS who cared for their fellow human being and stepped forward to offer help. If only states could learn to respect and stick up for each other this world would become heaven!!!!!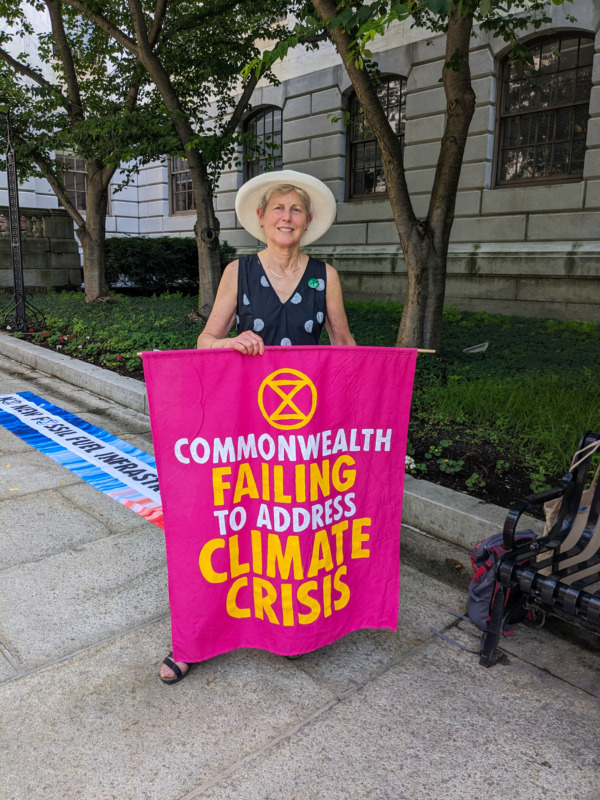 Today is Tuesday, 18th of July. Before I walk you through the intense sessions we had today, let me give you a sneak peek into yesterday's visit to the Massachusetts State House, which is one of the oldest State Capitols in continuous use in the country.
A young, well-prepared intern took us for a guided tour of the beautiful landmark which holds immense historical significance for the state of Massachusetts and the U.S. She walked us through different historical eras. It is so fascinating to see how Americans have preserved their history and present it to the public in the most interesting and interactive way. I am a tourist, but I learnt so much about American history just through that one comprehensive tour of the well-preserved building. Landmarks such as the Massachusetts State House continuously remind Americans of the values their founding fathers had envisioned for the country. Acquaintance and strong connection with history is amiss in my country. Maybe we need to learn from the Americans the art of teaching history in an engaging manner, but it's imperative that we keep our generations rooted with their history.
I was amazed to know that this monumental building has often been used to host different rallies and protests. We witnessed one yesterday where some environmentalists stood outside the State House to get their protests registered. This is a testimony to the fact that "Freedom of Speech" is guaranteed to the the American citizens. For many of us in the developing world, this is still a privilege allowed to some and denied to the majority.
Today, Dr. Katie gave an in-depth session about the "Education System in the US". It was interesting to learn about different pedagogies used by the educators to inculcate the analytical and critical thinking skills in the American students. What has fascinated me the most about SUSI program is the candidness of all the guest speakers, who have generously allowed us to question them about the American systems, norms, and values. It is simply remarkable, how they have been honest about the boons and banes of American capitalism. Katie explained how "school shopping" can be a stressful process because parents need to relocate themselves in the area that offers the best schools. She candidly explained how the education system has contributed to widening the gap between the rich and poor in the country.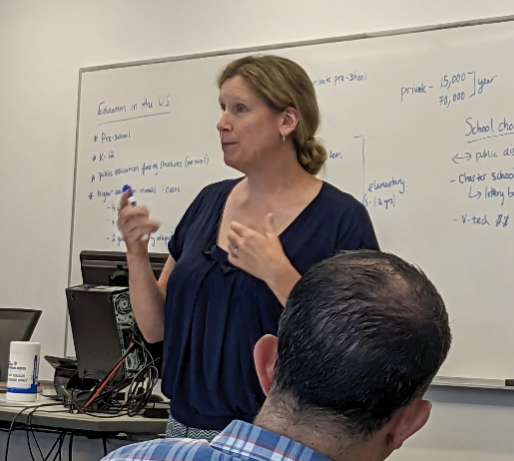 The day ended with Dr. Javier Corrales' brilliant session on US Democracy. For someone like me who hails from a relatively new democracy, it was fascinating to learn how Americans struggled to attain democracy and are still struggling to retain it in its entirety. Dr. Javier's optimism was so refreshing. I would certainly take back with me a strong hope that one day my country will also stand tall as a strong democracy where citizens' right to freedom of speech is respected and ensured.
I am short of words to express my heartfelt gratitude to Katie, Javier, Mark Protti and all the members of the ITD Team and especially the US department of State's Bureau of Educational and Cultural Affairs for this brilliant opportunity. This, I think, is the best investment the US can make in spreading goodwill. I will return as the ambassador of peace and will share with my students and colleagues the enriching experiences of my stay in your beautiful country. Here's to many more laughs, grueling sessions, assignments and homework, bonding over scrumptious food, beaches and museums, crazy shopping trips during the remaining part of our SUSI Scholars Program 2023…………

God bless America!
God bless us all!
All opinions expressed by the program participants are their own and do not represent nor reflect official views from the Bureau of Educational and Cultural Affairs of the U.S. Department of State, or of the Institute for Training and Development, Inc.