Aditi:
In this first week of SUSI we were able to get to know more about the program itself, how to use moodle, had our first inter-institute session with the University of Arizona, were matched with our homestay families, finished our online course's first exploration, and had such a great time getting together in the collaboration part creating our group's Google Site. In breakout rooms, we got to know more about each other's backgrounds, experiences, hobbies, cultures and were surprised each time we found out some similar interests with our colleagues. The Studies of the U.S for Student Leaders on Social Entrepreneurship is a life-changing experience for us. Not only for being a safe place in which we know we can express ourselves, share our ideas, and be heard but for all the possibilities that we already can perceive in our way. Also, we are very excited about the amount of knowledge that we're having access to and the intercultural exchange between ourselves, our supervisors, teachers, and invited students who initiated their social change projects. We go to sleep and wake up everyday thinking of SUSI, anxious imagining what is about to come. If the virtual sessions are so pleasant and cheerful, we can't even imagine what's going to be when we all meet in person. Speaking of which, a little bird told me that the Uruguay crew were reunited today. Good job, Uruguay! The rest of us wish we could do the same in our countries. But hey, the U.S is coming, right? We hope so!
Octavio:
The first week of the SUSI program has been very intense for me and has certainly exceeded my highest expectations. On the one hand, I was able to learn from world-class professors with whom we were analyzing world trends around the economy, politics, justice and society. On the other hand, I was fortunate to meet, collaborate and work with colleagues from different regions of America, with whom we were able to reflect on the problems of our communities. In summary, it has been a week that I will never forget and I look forward to the development of the following weeks.
Juli:
This first week of SUSI has been a rollercoaster of emotions, from nerves to laughter. We learned about the program and how we are going to be handling these weeks full of courses and activities, we also met the ITD staff, teachers and classmates. These are intense days of a lot of learning but above sharing, we just finished our second social hour and we had such a good time! We can't stop talking about wanting to meet in person to live this experience. I am grateful for this opportunity, but above all enthusiastic to know what the following weeks and activities will bring us.
Vicente:
Yes, it is true that at the beginning I did not know how to navigate the website. Yes, it is true that I mixed the time zones more than once. But after one week, I can say that I'm gladly surprised at how well it all worked. There are many difficulties in online learning, and you would think that the distance would make connecting with people much harder, but this was not the case! To begin with, we are accompanied by a very dedicated staff that's been just amazing, very attentive and warm, providing us guidance and receiving all our feedback.
Then, from an educational standpoint, we have been introduced to social entrepreneurship while also touching relevant topics to understand the roots of issues from today. But we've not just worked on that, we've also had sessions aimed towards understanding ourselves and our place in this whole thing – this chaotic, ever-evolving world in which we are inserted.
On a more personal level, I must say that I am especially happy about meeting (even if it's through a screen) the rest of the students. So many people from different backgrounds, and each one of them are incredibly smart and talented! I must admit that I was intimidated by the idea of getting to know them, since all I had seen of them was some short bios, where they seemed way more experienced than me, and therefore distant. But now I see that they're super approachable and just as eager to know each other as I am! I can't wait to know more about them, get to share our views, our silly little plans, our dreams, our goals. All of this with the hope of, someday, being able to make a use of what we learned together.
Mari:
This SUSI week was so much fun. It was a bit chaotic at first because there was a lot of information. I really enjoyed meeting my colleagues and working together. I feel like I'm learning a lot about topics that I hadn't even thought about before. It is very fun to be from such different countries and to be able to be all together in the classes.
I really enjoyed the online course (the team part). Being in small groups, we were able to talk much more about ourselves and get to know each other a little better. It is perhaps difficult with virtuality to be able to meet each other, since although WhatsApp exists, it is different from being there and chatting. I also believe that we have been able to learn a lot from virtuality and accommodate ourselves to it.
The ITD staff is incredible. I think they have been quite patient with us and have helped us a lot. The teachers and class managers were wonderful, we could see that they enjoyed teaching. I really liked the call with the students from the United States, since it allows us to learn a little more about the situation in their country.
I am very anxious about the homestay, I also feel that knowing a country for its food is a little special. I hope to be able to meet in person soon.
Some pictures of our social hour conducted by Vicente, Julieta, Marité, Octavio and Aditi: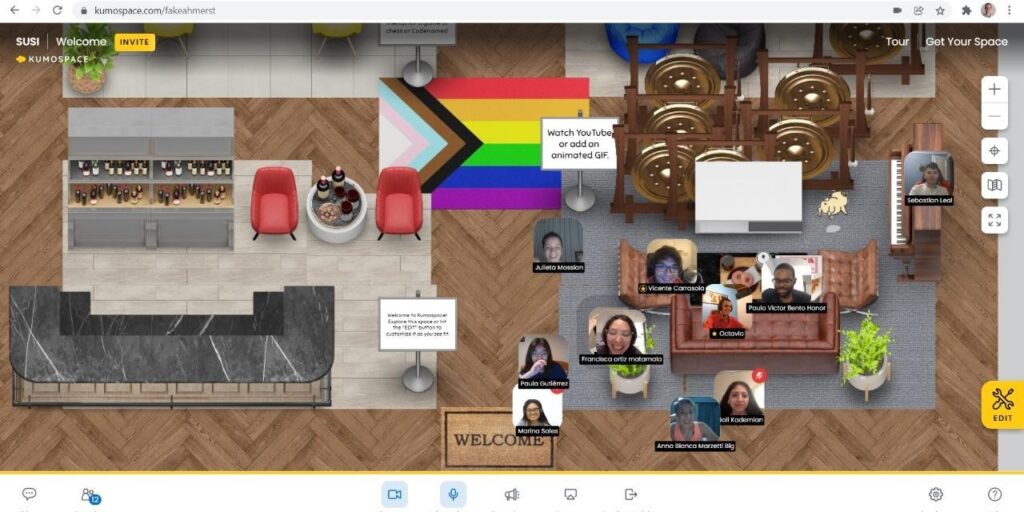 All opinions expressed by the program participants are their own and do not represent nor reflect official views from the Bureau of Educational and Cultural Affairs of the U.S. Department of State, or of the Institute for Training and Development, Inc.