By Mpeya Moswala
END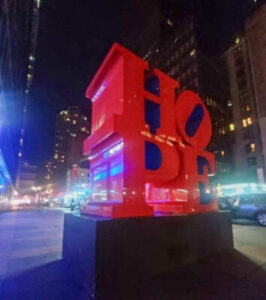 Just this once, I'll start by the end of my trip to NYC.
Well, I wanted to discover what an early morning in the city that never sleeps looks like, so to speak. I would say that to me NYC looked just like an unpredictable and untamable Mustang driven by an endless God-sent fire burning. So, I decided to be a watcher, an observer of this city that was sunny, quiet, and almost sleepy that morning.
I climbed to reach the peak of the mountain and got to the "Top of the Rock".
From above, the sight was completely different and particularly breathtaking! To such an extent that the buildings and skyscrapers didn't seem far anymore if not close as the crow flies.
Let's say that it was only when I reached the top that I could grasp the depth of the hidden message engraved on the summit of the entry porch. The sight brought me the light of a tiny torch on the horizon, enough inspiration to give space and breath for a fresh start, a new morning, a new beginning, to find balance and stability between the left and the right-wing such as the golden eagle mature enough to soar, taking advantage of rising air currents. It sounded like a wake-up call to wisdom and humility rising from the depths of this urban jungle.
I pressed the button of the lift to reach the bottom of the hill and on my way down I felt the pressure of the height in my ears. I could even hear the rumble of the horseshoes hitting the smelly and steamy macadam like a starved jackhammer. I realized that I really had to leave the 7th heaven because it was almost eleven and I had to be on time for the hotel checkout. At that very moment, I discovered a fountain and a teacher in every art at the foot of the mountain, he taught me that this fire burning was nothing more than "a means to mighty ends".
WHY?

They say that New York is a "Zoo". I thought I was exaggerated, if not a myth…but that's absolutely true!
I would even say that from my hotel room, Times Square even looked like a beehive, an indescribable hive of activity from dawn to dusk. People kept coming and going all over the place as busy as bees looking for the fresh green pollen and then they vanished as fast as they came like the white steam emerging from the underground or the smell of cannabis turning up out of the blue. Whatever, it seems like this way of life is the nectar, the nec plus utra, as they say: "Time is honey, baby!"
In this labyrinth of avenues, all your five senses are constantly put to a severe test!
The walls of the streets look like living paintings, a patchwork of ads as colorful as each other, coming one after another on the catwalk showing the latest fashion under the spotlights. This is definitely a city of contrasts, it gave me the impression of a chiaroscuro work of art straight from Rembrandt's paintbrush. You can see Greco-Roman style massive buildings adorned with their set of unaffordable jewels sitting like Titans next to a herd of homeless people acting like islanders of Liliput begging for money to have their "pain quotidien".
And when the sun goes down, NYC puts on her evening dress and turns into the beauty queen, the main actress of a life-size musical broadcasting a melting pot of cultures, languages, stories, and Nations both multiple and so United.
If I had to choose one word to describe this city, I would say: "H.O.P.E." Do you know why? Simply because that's what I saw in the smile of William the fisher of Central Park when he got a catch; that's what I felt in Columbus Circle metro station when this street artist started playing the trombone as if it was his last performance; that's what I experienced when Kristos and Tanmoy showed me that being a policeman could rhyme with respectful, funny and friendly; Yes, I found hope in the story of Angelo, the ice-cream vendor who told me that if you love your job you don't have to work and you can even become famous; I found hope when I saw a baseball game gathering men and women of every skin colour and ethnicity playing together and having a quality time as one, I felt hopeful when the young man from the "Moving Languages Ahead" (MLA) answered me that they wanted to build bridges between people through the learning of languages and other cultures; I found hope when I saw young people volunteering, helping gardening and giving a hand to keep the city green; Yes, that's what I found watching people from all over the world speaking so many different languages popping here and there in the park while sitting on that bench, eating a sandwich between a little waterfall and a pond; I finally found hope watching the city from above at 3.30 AM when the lights of the islands shone in silence depicting a one-of-kind and unforgettable "Starry night". It seemed like the Earth borrowed the bed of the broad milky way.
SEA / SEE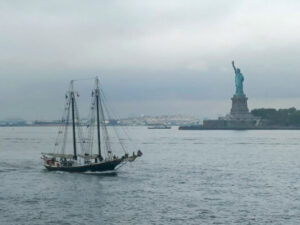 Since it was the first time for me to come to the US, taking the ferry and having the opportunity to see The Lady who needs no introduction made me both grateful and thoughtful. It made me grateful because the wait for this moment was as long as the line in front of the Madison Square Garden on Saturday Night! But it also made me thoughtful because this was the first figure thousands and thousands of people saw throughout the centuries whether they came from overseas by will or by force. I just wonder how we can move ahead, learning from the mistakes of the past and simply acting as human beings to go forward. Not only in theory but in practice, in every level of activity that makes this country with all the disparities that we can see today to create a better society. A society that will give back credibility to the quote: "Liberty, Equality and The American Dream".
The Lady and this journey invited me to think deeper about the difference between freedom and liberty. I can say that the more I learn about the US the more I realize that it's one country, but so diverse, multiple, and plural that it will be quite impossible to find a solution that will fit everybody. That being said, I will quote Malala Yousafzai (United Nations Youth Assembly, 12 July 2013): "One child, one teacher, one book and one pen can change the world." And I totally agree with her. So, I hope to see more and more children and young people who learn to know themselves and their inner world, more and more passionate educators who not only teach but inspire and influence positively the lives of every person they meet, more and more people who read, have access to high-quality education, more and more kids/children/adults/artists who take the pen to express themselves and fight to make a change in their own world, in this world, in our world.
All opinions expressed by the program participants are their own and do not represent nor reflect official views from the Bureau of Educational and Cultural Affairs of the U.S. Department of State, or of the Institute for Training and Development, Inc.