Diana P. Nelson – Honduras
As this marvelous experience is coming to an end, we pounder all the new knowledge, friends, and experiences lived. With this life-changing experience, I learned a lot not only about the US, but also about my own country, Honduras. A beautiful country located in Central America, with a lot to offer, but going through many difficulties. We usually think that the situations we go through are unique and no one can understand them. This program opened my eyes to other countries´ problems and made me realize, that our problems are alike to theirs. These shared situations gave me a feeling that in the end, it´s just one big similar world, with people wanting the best for their lives and for their families, no matter where you live. I deeply thank all the people involved in the process, the great ITD staff, who made us feel like if we were all in one room, all the teachers who were so engaging and charismatic that made every topic so fantastic, and finally, to my classmates, we come from very different backgrounds, but despite this, we found so much common ground and like interests. You are all the best!
Diana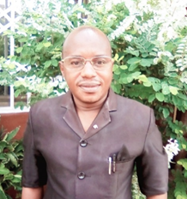 Allieu Badara Kabia – Sierra Leone, West Africa
Senior Lecturer and Dean of Faculty of Social and Management Sciences, Ernest Bai Koroma University of Science and Technology (EBKUST)
The efficacy of the "Study of the U.S. Institute (SUSI) for Scholars on Economics and Business" sponsored by the U.S. Department of State's Bureau of Educational and Cultural Affairs (ECA) hosted by the Institute for Training and Development (ITD) for participant's expert from various countries across the globe is of great significance. The adoption of the modern learning method of digitization using the zoom cloud and podcasting create an enabling platform of breaking the traditional barriers of knowledge deliverables from face-to-face physical presence model to an electronic learning approach during disasters such as; the current Covid-19 pandemic and the Ebola plague that ravage the entire world years back with a systemic risk effect having the tendency to reverse gains in all sectors especially the educational sector.
Introduction
As an African Sierra Leonean and Dean of Faculty in one of our public universities, being a beneficiary for such an academic and professional training programme has placed me in the right place and in the right direction. Human resource capacity enhancement in such wonderful programmes cannot be underestimated to meet the demands and dying needs of addressing some of the problems of Higher Educational Institutions (HEIs) in Africa. Let me, on behalf of my University-Ernest Bai Koroma University of Science and Technology (EBKUST) use this medium to heartily thank the U.S. Department of State's Bureau of Educational and Cultural Affairs (ECA) for such an opportunity given to all and sundry that benefitted during this fantastic digitized learning programme. In extension, a very big thanks and appreciation to the team of the Institute for Training and Development (ITD) and in particular, Mark, Katie and Javier for their reiterated and relentless effort in making this training a success. Warm regards and bravo to you. To our brave, enduring and charismatic tutors and facilitators with special reference to; Javier Corrales, Dan Barbezat, Ben Schneider, Caroline, Laura, Tess Wise, Robert Pollin, Jakina, Alan Robinson and Jeffry Frieden – you are all awesome. Your lectures were very interesting and fascinating with an indelible ink in our minds and thoughts.
Digitization Learning Method System (LMS)
The digital learning method system (LMS) adopted during this three (3) consecutive weeks was very thought-provoking and educative. The zoom Cloud e-learning platform and the Podcasting will unlock the learning potentials during crises period of the countries represented in general and the participants in particular. As in the case of the Covid-19 and the Ebola pandemic. The inception of the pandemic gives rise to the use of digitization.
Academic and Professional Experience
The various modules delivered by our respectable and diligent tutors were very much remarkable, inspirational and educative and has help in building our cognitive, psychomotor and affective skills. In succinct, both our academic and professional experience has been enhanced.
Interconnectivity and Coordination
This wonderful learning programme created an enabling platform of fostering teamwork building and social-network among participants, between participants and; host institution, tutors/facilitators and peer collaborators.
Peer collaboration
An emphasis here is the warm collaboration with my mentor and peer reviewer- Rebecca Bell who's an Associate Director of Career and Professional Development at the University of Massachusetts Amherst in the College of Social and Behavioural Sciences (SBS). We had three(3) online meetings that were very successful within various topics discussed on that are not limited to; Culture and tradition, Higher Educational Institutional system, Research and exchange academic programmes, potentials in trade and investment to help boost the growth of Sierra Leone economy etc.
Teamwork building- Blogging and Podcasting
The establishment and formation of the inquiry podcasting and blogging groups goes a long way in fostering teamwork and bridging barriers of diversity and time management, interpersonal relationships and effective communication. These groups were of significance that aid socio-academic and professional networking among participants. The podcast session with Dr. Shabazz was fascinating and fruitful. Our group podcast members constituted of Amira, Tendai, Sissay and myself on the theme "Poverty reduction in Africa through Remittances, Financial Development and Natural Resources." Thanks so very much to my group members for their commitment and effort to make it a success.
Limitation and Delimitation
Albeit the beneficiation of the programme which had been very much knowledgeable and fruitful there were challenges that are not limited to; internet connectivity and power supply and ICT skills and techniques especially with the podcast session which was a learning session for me.
The delimitation was the financial support given to us by the ITD institution. We extend our sincere thanks and appreciation to the sponsors for making this program a success. This support enables me to purchase an alternative internet connectivity tool that enhances my participation of the program to completion.
Conclusion
Conclusively, the training program is a success with an increased build-up in our knowledge base human resource capacity. Thanks again to the United States department and all involved in this very important training.
All opinions expressed by the program participants are their own and do not represent nor reflect official views from the Bureau of Educational and Cultural Affairs of the U.S. Department of State, or of the Institute for Training and Development, Inc.