By Alina Boiko
My name is Alina, and I am experiencing my first visit to Boston.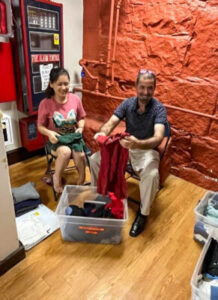 Arriving in Boston as a participant in the Study of the U.S. Institute of Economics and Sustainable Development, I joined a group of 18 open-minded, and experienced Scholars. Our program is filled with enriching seminars, deep discussions on economics, political systems, sustainable development, and leadership.
One unique aspect of the program for me was the opportunity to be part of the Friday Night Supper Program (FNSP) and contribute to the care and warmth of the local community. FNSP is one of the oldest homeless supper programs in Boston founded in 1984, and located in Arlington Street Church.
We were actively engaged into FNSP last Friday, assisting in setting up the dining hall, preparing to-go bags, and organizing the distribution area. We also aided in sorting and distributing clothing, packing additional to-go meals, and cleaning up after the service. It was interesting to learn that each of us had previous experience serving our own communities, which we shared while volunteering.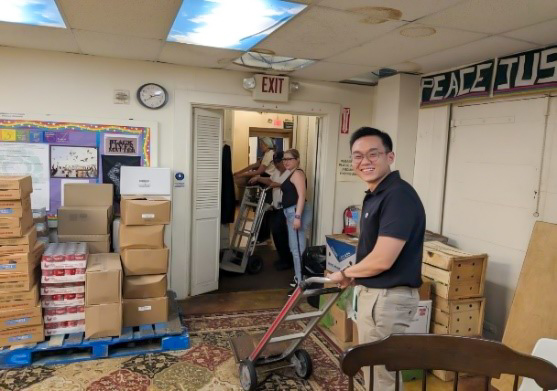 For example, in my home country of Ukraine, which is currently fighting for its existence, there is a widespread volunteer movement. People come together to prepare food for defenders and internally displaced persons, weave protective nets, sort and distribute clothing among those in need. Whereas, for example, in Pakistan and Malaysia, community service is a mandatory part of the curriculum at the universities.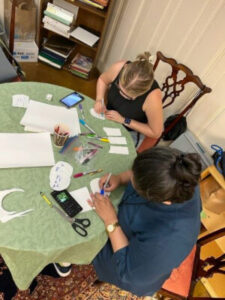 One of the most unique and exciting tasks we had that day was writing kindness notes for the guests at the Friday Night Supper Program. On over 100 cards, we wrote about simple yet important themes: the significance of a smile, believing in oneself, love and gratitude, the value of life.
Personally, the day left a lasting impression on my heart. Through acts of kindness, understanding, and empathy, we have the power to create positive change within our own communities. In Boston, I not only found a beautiful city but also a community that exemplifies the values of warmth, care, and compassion.
All opinions expressed by the program participants are their own and do not represent nor reflect official views from the Bureau of Educational and Cultural Affairs of the U.S. Department of State, or of the Institute for Training and Development, Inc.