By Fernando López Gaído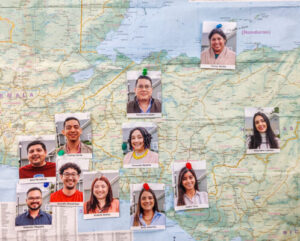 The Professional Fellows Program has been a fantastic opportunity for me to be a part of. Three lectures about American politics, government, and leadership were presented at Amherst, Massachusetts, at the ITD training center, to kick start the curriculum. I learned plenty from these lectures while acquiring a deeper understanding of American culture and system. It was fascinating to observe how the American government and politics operate in addition to how the nation approaches and applies leadership. I enormously appreciate ITD's efforts in taking these honorable professionals to enlighten us with their immense knowledge and experience.
After the lectures, we traveled to New York City where we had the opportunity to explore the surroundings and experience some of the city's sights and sounds. The trip's highlight was attending the Broadway production of Moulin Rouge. It was an amazing experience and a great opportunity to bond with the other fellows in the program.
Working alongside my fellowship organization, Tech Foundry, has been the program's genuine highlight. I feel that this organization is the ideal fit for me because I'm enthusiastic about teaching tech skills and competencies to an audience that is typically forgotten. Working with Tricia Canavan, the CEO, has been a fantastic learning opportunity. Tricia is a tremendously creative and intelligent woman, and I am picking up so much from her. She has given me access to her organization so that I can learn about their social impact and method for educating underserved populations in tech skills.
Overall, I am having an astounding experience with the Professional Fellows Program. The lectures and cultural encounters in New York City and Massachusetts were fascinating and enjoyable, and working with Tech Foundry has provided me with a wonderful opportunity to develop. I am grateful I am participating in this program and am eager to return to Honduras with what I have learned to start my own reskilling and upskilling initiative there.
All opinions expressed by the program participants are their own and do not represent nor reflect official views from the Bureau of Educational and Cultural Affairs of the U.S. Department of State, or of the Institute for Training and Development, Inc.