By Amy Shapiro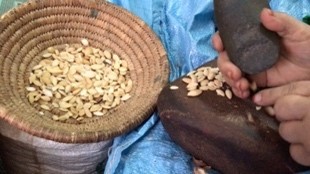 Each day in Agadir and Marrakech expanded an understanding of the contrast between the two cities of Moroccan life & culture, and how the U.S. and Morocco have much to learn from each other. I focused on how small businesses build sustainable businesses.
In speaking with business owners, I gained a better understanding of the similarities and how things are different. Small business owners and women cooperatives have similar business issues but differ with the kind of assistance in starting, growing, and developing future goals. I was reassured that these women were practicing proven business strategies, but some lacked the resources and support to grow.
Aziza Roudani (Professional Fellow Alumna) introduced Naima Boudguigue owner of Arga Bio Lune who produces argan oil and amlou. She trained as an accountant before starting her business 5 years ago and now products are available for retail and wholesale. Our exchange clarified what was working, need for assistance, and plan for growth. There doesn't seem to be available assistance for a small company as there is in the U.S.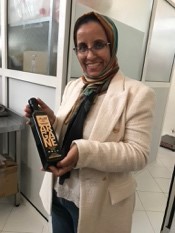 I recorded our exchange and plan to share with my students to have them understand how this business manages and explore possibilities to collaborate. Aziza will monitor the exchange and assist in collaborations.
An understanding of various cooperative models became clear with three meetings. We met with President Fatima Ait Chajia of Agricole Feminine Argane Tamait who produces Argan Oil. We entered a large rectangular room where 15 women were seated and breaking argan nuts to separate the seeds for production. They taught us how to use their stones to break nuts without smashing the seeds. It is not as easy as it looks and if we had four hours, we could learn the skill. They were welcoming and invited us to dance with them- connecting without speaking familiar words. This cooperative seems to have different levels of staffing responsibilities and received financial support to purchase equipment.
Then we met with nine women of the Zarbia Achbarou collective who together manage, discuss and plan every decision. Their success was inspired and assisted by Amina El Hajjami, another Professional Fellow Alumna, and High Atlas for years of assistance for women empowerment, collective management that developed a very close community.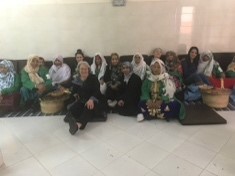 Overall, I see how business assistance is as important in Morocco as in the US. How the level of assistance impacts empowerment, and business growth and sustainability. There is a demand for assistance that can support these businesses that will have a long-lasting reward on communities.
This experience provided a wider understanding of immigrant populations and the range of assistance to develop businesses in Massachusetts plus a deeper awareness with my statewide peers who work with immigrant populations.
It has been an honor to get to know the Fellows and be introduced to Morocco at the same time as the soccer team progresses in the World Cup Competition. Experiencing the whole country's explosion with each soccer win added another exciting dimension to the civic engagement that will be with me for a long time.