By Laura Ivanier, Cendrella Abou Fayad, Tendai Mabvure
We have started the third and last week of our SUSI Scholars 2021 program. If we want to write about this unique experience, the first thing that comes to our mind is #exchangeourworld.
We come from different countries across the planet: Laura is a professor of Economics from Argentina, which is a vast country in the Southern part of South America; the current population is 45 million. Argentina is considered a country of immigrants, a melting pot. Cendrella is a university professor of Management, a researcher and a consultant from Lebanon. This little country in the Middle East has a population no bigger than 6 million forming a very heterogonous society characterized by different sub-cultures. Tendai is a senior lecturer of Finance and Investment, a researcher, and is involved in industry as an Independent non-executive director of a state owned enterprise. He is from Zimbabwe. The population of this African country is about 16 million, having 16 official languages.
Participating in the SUSI Scholar program means meeting with people from countries we didn't even know their location. It also means getting in contact with different cultures we were not much familiar with, including the U.S. culture.
We felt so privileged to have been chosen as members of an international, intercultural and challenging program which has allowed us to exchange our world with other colleagues. This rich interchange was possible with the great professionalism and human qualities of the ITD team and all the lecturers, virtual hosts and mentors who offered us the possibility to broaden our knowledge, skills and critical thinking in order to better understand their world and enrich ours.
One of the most interesting topics was the one discussing democracy that was presented by the academic director of the program, Professor Corrales. He introduced us to the concept which the founding fathers of America advocated for. It was also eye-opening to the backsliding democracy occurring in many of our countries. The academic lecture on Populism has also highlighted the challenges to Liberal Democracies not only for developing countries but also for the USA. The economic impact of international migration was also a very interesting topic. We reflected on it and then put an African, South American and Middle Eastern context to it. Internationally it seems that migrants are welcomed with open hands although not all may feel at home. In Africa however, the regional migration is not without its problems and is characterized with xenophobia. There have been many xenophobic attacks on African foreigners who come to work in other countries in the same continent. Xenophobia also exists in Lebanon even though the reasons behind this behavior may differ from one country to another.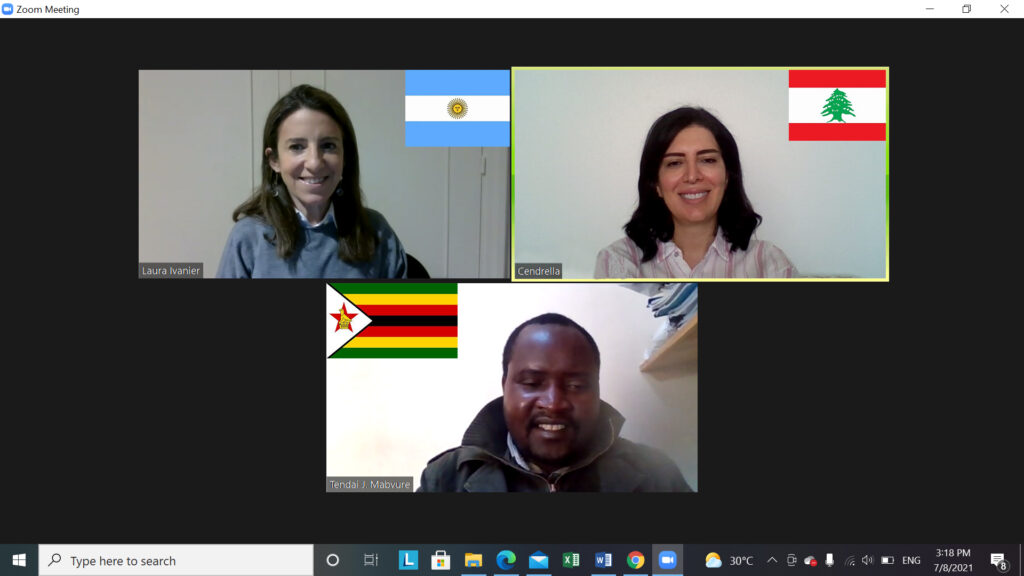 The lecture on International Political Economy and the pandemic by Professor Frieden showed that the crisis had offered opportunities to global cooperation. He added that one of the failures of the last decades was not compensating the losers. He suggested than in the USA after decades of decline of the Industrial Belt, these "left behind" areas turned into Republican. In Argentina, the large "left behind" groups are reflected by the dramatically increase in poverty rate from 8% to 42% over the last 40 years.
The innovation and strategy session presented by Professor Robinson highlighted the importance of inductive research when helping companies resolve management issues. This was an important topic as Zimbabwean universities have moved to Education 5.0 (Teaching, Research, Community service, Innovation, and Industrialization This is also very important to the Lebanese context since we are trying to implement University-Industry Collaboration UIC in order to help both universities and industries overcome the current economic crisis.
The Peer collaboration is one of the greatest parts of the program; discussing with our mentor will have a great impact on our self-development. In addition, writing a blog and producing a podcast allowed us to experience team work and get to know the other scholars better.
All the matters highlighted above definitely helped us improve our understanding of U.S. Economics and Business in a great way. We have learned that all our countries share similar challenges: how to join a trend of economic growth that would result in better living standards and less inequality, how to build reliable democratic institutions and enforce power division and how to address policies of greater inclusion.
In addition to the program's added value mentioned above, the cherry on top is that feeling that we don't belong to different worlds: we are all members of the human family that lives in one single world. Exchanging our world can help us overcome difficulties and build, hand in hand, a better future to live peacefully and make it flourish.
All opinions expressed by the program participants are their own and do not represent nor reflect official views from the Bureau of Educational and Cultural Affairs of the U.S. Department of State, or of the Institute for Training and Development, Inc.