By Bahiru Adamu, Cameroon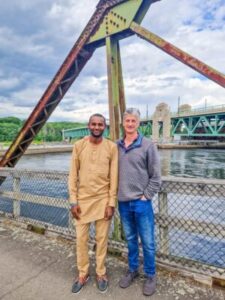 part of the SUSI Exchange Program, participants are paired and required to pay a visit to local individuals or families within their host community. The idea is to help participants be closer to American society by interacting and sharing perspectives with the smallest unit; the family, that makes up the larger society. Luckily for me, I was matched up with one of the most beautiful people in the person of Emily Monosson and Ben Letcher.
Emily and Ben are both scientists who live in Northampton. Together with my colleague and friend, Maria, the family picked us up at 10:30 am on Saturday, June 10 from the ITD House at Sunset Avenue, in Amherst.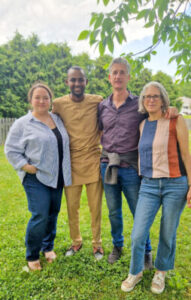 For seven hours that faithful Saturday, we visited their garden house, where we met their two pets, a dog called Ella, and a cat that looked very healthy and friendly. They gave us a ride around the town showing us various places like the University of Massachusetts and a community library located near a river. Then, we visited a local restaurant, where we had dinner, and drove to a local farm for a brewery where we met Congressman Jim McGovern, who represents Massachusetts's 2nd congressional district that is located in central Massachusetts. From there, we visited the Dam at the Connecticut River, where we saw live fish swimming upstream through a glass. We also had the chance to visit a local nearby museum where we saw books, animals, and other exhibitions.
At 5 pm, we decided to head back to the ITD House. We were very satisfied with our host family for taking the time to show us all the places mentioned.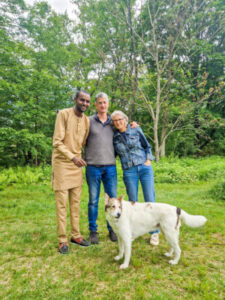 One thing about Emily and Ben that caught my attention is their ability to listen to details and provide the kindest of responses that anyone can understand. They were so patient with us and they were very knowledgeable about the places we visited. Ben wished us goodbye and headed home because he had music practice in the evening. His wife, Emily, drove us home asking us to keep connected via email. It was a satisfactory experience that my friend Maria and I had, and we thank ITD for the opportunity. When we reached home, many people who went out for a similar experience were already back with various stories to tell about their host families. We settled in to rest and prepare for the next exciting experience, the white-water rafting! Which my friend Eebaraj from Nepal will surely focus on.
Regards,
Adamu
All opinions expressed by the program participants are their own and do not represent nor reflect official views from the Bureau of Educational and Cultural Affairs of the U.S. Department of State, or of the Institute for Training and Development, Inc.