By Maria Strelețcaia, Republic of Moldova

On the road
A road trip from Salt Lake City to the south off the state took us through magnificent landscapes that shifted constantly and abruptly. Rock formations replaced clusters of green trees and fields; these also soon vanished, revealing mountains dusted with snow. Some more time on the road brought us to Torrey, a rather small town established back in the 1880s by Mormon Settlers. Throughout the times it has become the gateway community for Capitol Reef National Park – our destination.
Out in the wild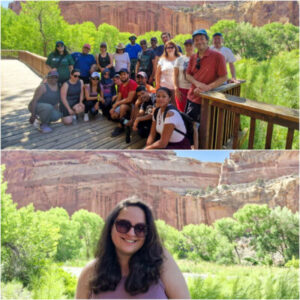 Capitol Reef National Park protects a geologic feature known as the Waterpocket Fold, nearly 100-mile-long warp in the Earth's crust. A simple google search will tell you that the park attracts smaller crowds than the rest of Mighty 5 (Bryce Canyon, Zion, Arches and Canyonlands), but the reason for that is a mystery to me. The views that opened before our eyes were spectacular and simply breathtaking. In some cases quite literally, as the sun was boiling hot and a hike up the hill took a toll on some of us.
First part of the day was spent on a scenic drive around the park with small stops at Fruita rural historic district, Fruita orchards, campgrounds and Capitol Reef Petroglyphs. Prior to the arrival of Mormon pioneers, the land was utilized by the Fremont people who inhabited the Fruita valley from approximately 300-1300 A.D. Numerous Fremont designs can be seen carved onto the towering sandstone walls.
Second part of the day saw a small group of our cohort hiking a few trails. Technically, it was only Hickman Bridge Trail, but I must include Gunhild, who chose Rim Overlook Trail, a longer hike, and left us at a trailhead watching her soaring up the track. The 1.8-mile (almost 3km) round-trip walk to Hickman Bridge took us less than two hours to complete. The hike opened up a great view of the park's namesake Capitol Dome, natural sandstone arches and unique formations. To say the views were impressive would mean nothing, as every way you looked you felt all the grandeur of nature … its beauty, greatness and power.
On the road once again
Going back to Salt Lake might have felt a bit bittersweet, but our next flight was to the Capital itself with 4th of July fireworks, the National Mall, Smithsonian museums and farewell goodbyes.
All opinions expressed by the program participants are their own and do not represent nor reflect official views from the Bureau of Educational and Cultural Affairs of the U.S. Department of State, or of the Institute for Training and Development, Inc.