Elaborado por:
Yessenia Sales Morales (Guatemala)
Oscar Fernández Fernández (Honduras)
Johanna Sagastume Penate (El Salvador)
Alondra Paola Vera Rangel (México)
"Las y los jóvenes de hoy son motores de cambio del mañana"
¡Ya son dos semanas de convivencia on line en SUSI 2021! Esta nueva modalidad nos ha brindado grandes oportunidades, nuevas amistades y, la adquisición y generación de nuevos conocimientos. Sin duda, SUSI se ha convertido en una de las mejores experiencias académicas y personales que hemos tenido y no cabe duda de que aprovecharemos cada momento al máximo.
SUSI a través del Institute for Training and Development se ha convertido en ese espacio en el que podemos aprender, convivir, divertirnos, intercambiar ideas, conocer nuevas culturas, forjar ideales, identificar problemas sociales e incluso plantear soluciones desde nuestros propios ámbitos de acción.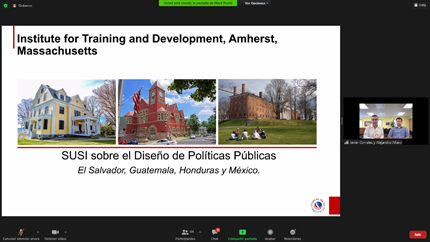 Asimismo, el programa nos ha permitido conocer la cultura de Estados Unidos y la situación política, económica y cultural que se vive en dicho país y poder contrastar los conocimientos adquiridos con nuestras realidades en América Latina, especialmente con El Salvador, Guatemala, Honduras y México.
Hoy, debemos decir y convencernos que nuestra dedicación y esfuerzo debe ser orientado a lograr una sociedad más justa en nuestros países, seamos agentes de cambio y conscientes de nuestra situación, creemos un mejor futuro para todas y todos porque a pesar de que la distancia física nos separa estamos virtualmente conectados en un mismo sentir hacia la inclusión social, valores, derechos humanos e igualdad.
A lo largo de estas semanas abordamos diversos temas relacionados con la corrupción, la situación de la democracia en EEUU y América Latina, el racismo, feminismo, estereotipos, poder del leguaje, derechos humanos, liderazgo e inequidad social, lo cual nos ha llevado a intercambiar ideas sobre la importancia y necesidad imperante de dar solución a los distintos problemas mediante el trabajo en equipo, promoviendo cambios significativos en el corto, mediano y largo plazo.
Nuestro momento favorito ha sido las noches de intercambio cultural pues siempre están llenas de mucha energía, descripción de las riquezas naturales de nuestros países y diversidad cultural que la juventud reconoce y se enorgullece por ser parte de ella.
Llevemos siempre en el corazón la cultura de nuestros países, pues ¿qué más se puede desear, teniéndonos como guías turísticos? Que sí unos taquitos, unas pupusas, unas baleadas o unas dobladas…
All opinions expressed by the program participants are their own and do not represent nor reflect official views from the Bureau of Educational and Cultural Affairs of the U.S. Department of State, or of the Institute for Training and Development, Inc.